KwaZulu-Natal travel information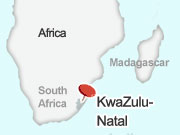 Where is KwaZulu-Natal?
It is located in the southeast of South Africa and the territory has a long shoreline on the Indian Ocean. In 1994, the territory now known as KwaZulu-Natal was made up of the province of Natal and the homeland of KwaZulu.
Along with domestic borders, the region also borders areas of Mozambique (far northeast), Swaziland (northeast) and Lesotho (southwest). At around 94,000km², KwaZulu-Natal is roughly the size of Portugal.
Distance charts

| | |
| --- | --- |
| From Durban to | Distance (km) |
| Bloemfontein | 628 |
| Cape Town | 1606 |
| East London | 667 |
| Johannesburg | 566 |
| Nelspruit | 676 |
| Port Elizabeth | 926 |
| Pretoria | 618 |

Getting there
Airport details: Only major airport in KwaZulu-Natal: King Shaka International Airport, Durban. International flights from London via Dubai directly into Durban or from London (non-stop), Birmingham (1 stop), Manchester (1 stop), Newcastle (1 stop) and Glasgow (1 stop) to Johannesburg and Cape Town. Domestic flights to Durban from Johannesburg and Cape Town.
Flight durations:
London – Johannesburg: 11h
London – Cape Town: 12h
Johannesburg – Durban: 01h10
Cape Town – Durban: 01h55
Getting around
Coach and bus services: The main bus companies run regular services from Durban to Johannesburg, Cape Town and Port Elizabeth.
Driving: There is a wide selection of car hire agencies at Durban airport. Driving is on the left hand side. All distances marked in kilometres. It is compulsory to wear seat belts and illegal to use hand-held phones while driving. The general speed limit on South Africa's national highways, urban freeways and other major routes is 120km/h (75mph) and the roads are tarred. Secondary (rural) roads are usually tarred and the speed limit is 100km/h (60mph). In built-up areas it is usually 60km/h (35mph), unless otherwise indicated. Many rural roads are gravel. Always check the road signs. KwaZulu-Natal history
KwaZulu-Natal is the homeland of the Zulu people who trace their origins back to the warrior Nguni tribes of Central Africa who had slowly migrated south over many centuries and reached what
is now South Africa during the 16th Century. The name 'Zulu' means 'heaven' in the Nguni language and was the name of the founder of one of the most powerful Nguni clans, Zulu kaNtombhela.
Zulu history reached a turning point in 1816 when King Shaka reorganised a group of loosely affiliated clans into a powerful single tribe capable of subjugating neighbouring tribes and keeping both Dutch and British settlers from encroaching on their territory.
King Shaka achieved this (see below) by ensuring that military structures became an integral part of Zulu culture.
In 1828 King Shaka was killed by his half-brother, Dingane, who was in turn succeeded by Cetshwayo who refused to disband his army and accept British authority triggering the
Anglo-Zulu War of 1879. After initial success in routing the British at the Battle of Isandlwana, followed by the failure to take the mission station at Rorke's Drift,
the Zulus were finally defeated at the Battle of Ulundi on July 4th, 1879.
The power of the Zulu Nation was severely diminished thereafter and divided into 13 warring chiefdoms until being subsumed into the province of Natal. Under the apartheid regime,
the homeland of KwaZulu was created for the Zulu people while depriving them of their South African citizenship, but in 1994 KwaZulu was joined with the province of Natal to form modern KwaZulu-Natal.
Shaka, King of the Zulus (1789 – 1828)
From King Shaka Airport north of Durban, built in time for the 2010 football World Cup, to numerous public buildings, squares and streets named after him, King Shaka has become an integral part of modern-day Zulu culture and is synonymous with the Zulu Nation. In real life he was a ruthless leader and warrior, a brilliant military tactician, and a sometimes cruel and unpredictable disciplinarian. Born illegitimate to his mother, Nandi, in 1789, his name 'Shaka' means 'beetle' in the Zulu language after the tribal elders declared that Nandi  had "a beetle in her belly". To this day, many Zulus are named after the emotions of their parents when a child is born. Popular examples include Jabulani (Happiness) and Sebenzile (Well Done).
Shaka and Nandi were sent to live with neighbouring tribes and treated as outcasts until the young Shaka gained a reputation for bravery by killing a leopard single-handedly and fighting
with great courage during a battle under the Mtetwa Chieftain, Dingiswayo. Later, when his father Senzangakona came to pay obeisance to Dingiswayo, he promised Shaka the chieftainship of the Zulus after his death but later reneged on the deal under pressure from his wives.
Shaka took revenge by defeating the new Zulu chief in battle and set about bringing the rest of the clans under his control by force and building an all-powerful military force with new weapons, battle formations and tactics. He revolutionised Zulu weaponry by introducing the 'iklwa', a stabbing spear that was used alongside the traditional throwing spear or 'assegai', and developed the 'buffalo's horns' method of attack whereby the enemy was outflanked on both sides by the 'horns' of the attacking force and then attacked head on by the chest.
Shaka ruled with an iron will and an iron fist forcing his soldiers to run barefoot over all types of terrain so that they could move at speed in battle and executing any that disobeyed his commands. In consequence, he won victory after victory over neighbouring tribes who were brought under Zulu control.
When the British arrived at Port Natal in 1825, they were forced to respect Shaka's power and there was no conflict during the king's lifetime. However, his mother Nandi's death in 1827 made him increasingly paranoid and erratic in his behaviour ordering the slaughter of thousands of cows so the calves would understand what it was like to loose a mother.
In response, in September 1828 he was assassinated by his half-brother, Dingane, by which time he had built the Zulus into a powerful nation ruling over a large swathe of the northern coastal regions and interior of what is now KwaZulu-Natal.
Battlefields, KwaZulu-Natal
The Battlefields Region of KwaZulu-Natal covers a broad stretch of land from the Drakensberg in the north to Greytown and Stanger near Pietermaritzburg in the south. The landscape is made up of rolling hills and grasslands punctuated by the passes, rivers and kopjes that made up the central geographic features of these historic battles.
The region is home to 63 battle sites that shaped the history of South Africa during the 19th century. They were all fought between three main protagonists (Zulus, British and Boers) disputing rights to power and land in the region during the Voortrekker-Zulu conflict of 1838; the Anglo-Zulu War of 1879; the 1st Anglo-Boer War of 1880/81; and the 2nd Anglo-Boer War of 1899-1902.
Alongside the major battlefield sites, the region has many memorials, cemeteries, graves, forts, museums, and places of interest.
Things to see and do in KwaZulu-Natal
There's no shortage of things to see and do in KwaZulu-Natal. Here are our Top Ten KwaZulu-Natal tips.
1. Durban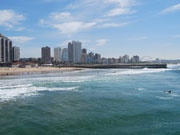 KwaZulu-Natal's most cosmopolitan city and the first port of call for most visitors to the province, Durban has been undergoing a renaissance in recent years. Its beachfront location on the Indian Ocean and year-round tropical weather have made it South Africa's busiest beach resort.
With its luxury hotels along the 'Golden Mile', world-class cuisine and top family attractions like the uShaka Marine World (Africa's largest marine theme park), Durban is one of the most vibrant cities in Africa. Read more about Durban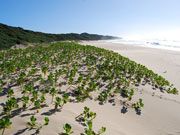 2. Beaches
KwaZulu-Natal is renowned for its world-class beaches. The combination of a balmy climate and wide, golden bays bordered by the warm waters of the Indian Ocean and the sub-tropical vegetation of the interior has made the coastline paradise central for holidaymakers.
Top beaches include Durban's Golden Mile and the resort area of Umhlanga Rocks while on the south coast Hibberdene, Margate, Marina/San Lameer and Ramsgate all have Blue Flag status.
Willard Beach and Clark Bay in Ballito are among the best beaches along the North Coast. All KwaZulu-Natal's designated swimming beaches are protected by shark nets and many have professional lifeguards in attendance. Read more about beaches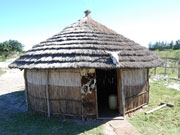 3. Township Tours and Community Tourism
Cultural tours which offer visitors the chance to experience modern-day life in a township or village homestead are becoming increasingly popular.
Durban's Umlazi township, South Africa's second largest after Soweto, has a population of more than 750,000 and is developing fast with investment in schools, infrastructure and housing. As well as guided tours, visitors can eat at top class restaurants and experience typical township cuisine.
Homestead stays also offer the chance to experience what everyday life is like for modern-day Zulus in the rural areas. A homestead or 'Umuzi' is a group of circular thatched houses belonging to an elder and his extended family. A stay will often include visits to local schools, shops and village communities. Read more about Township tours and Community Tourism
4. uKhahlamba-Drakensberg
A UNESCO World Heritage Site, the Drakensberg Mountains – the 'Berg' as they are affectionately known – form the highest mountain range in southern Africa with peaks up to 3,482 metres (11,424 ft). Their respective names in Zulu and Afrikaans (uKhahlamba/Drakensberg) mean 'Barrier of Spears' and 'Dragon Mountains' respectively and vividly conjure up the soaring grandeur of these dramatic, craggy peaks and sandstone cliffs. Famous for its hiking routes, the Berg is also famous for the rock art left behind by the San people with literally thousands of individual images from around 500 sites, some dating back around 2,400 years.
Read more about uKhahlamba-Drakensberg
5. Battlefields
KwaZulu-Natal is home to some of the most famous battlefield sites in both British and South African history. At the heart of Zululand, the battlefield region contains a combined total of 63 sites from the Voortrekker-Zulu conflict of 1838; the Anglo-Zulu War of 1879; and the 1st and 2nd Anglo-Boer Wars of 1880/81 and 1899/02 respectively. These include the sites of the Battles of Blood River, Isandlwana, Rorke's Drift, Laing's Neck, Majuba and Talana. Read more about Battlefields
6. Hluhluwe-Imfolozi Game Park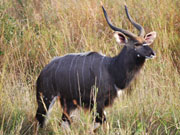 Once an exclusive hunting ground for the great King Shaka, the Hluhluwe-Imfolozi Game Park is the oldest game park in Africa, officially established in 1895. The park was instrumental in saving the white rhino from extinction whose numbers had declined to a mere 20 individuals in 1900 and now numbers well over 10,000. All the 'Big Five' can be seen in the park, including both white and black rhinos and the park is also one of the world's top locations for viewing the exotic nyala, a spiral-horned antelope with distinctive vertical stripes on the side of its body. Read more about Hluhluwe-Imfolozi Game Park
7. iSimangaliso Wetlands
This UNESCO World Heritage Site on the Elephant Coast in the far north of the province is made up of five major eco-systems of international importance which are also protected under the Ramsar Convention, an international conservation treaty.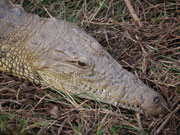 The park is the last pristine subtropical area on the south-eastern coast of Africa.
The 220 km coastline of the 332,000-hectare park – formerly known as the Greater St Lucia Wetland Park – has ten unique destinations between Maphelane in the south and Kosi Bay in the north offering everything from pristine wilderness and superb game viewing to activities such as scuba diving, horse riding, kayaking and fishing. Read more about iSimangaliso Wetland Park
8. Midlands Meander
Winding through the well-tended farmland stretching inland northwest from Durban, the 'Midlands Meander' is a route created by a group of like-minded small businesses to showcase the top attractions the region the has to offer. These include everything from arts, crafts, restaurants and accommodation to a wide range of sporting, environmental and historical attractions and now includes a network of 134 members. At its heart is Pietermaritzburg, the capital of KwaZulu-Natal, a vibrant city combining the best of Zulu, Boer and British influences. Read more about Midlands Meander
9. Whale watching & the Sardine Run
The north coast of KwaZulu-Natal is renowned for the Humpback and Southern Right whales which migrate north along the coast during June and July and back south again in September and October. Dolphin sightings are also a daily occurrence year-round. One of the world's great marine migrations, the Sardine Run, also takes place each year in June and July when huge shoals up to 7 kms long made up of millions of silver sardines (pilchards) migrate along the south coast of KwaZulu-Natal creating a feeding frenzy of sharks, dolphins and sea-birds in their wake. Read more about whale watching
10. Diving
KwaZulu-Natal is steadily building a reputation as one of the world's top diving destinations with some sites being regularly voted among the top ten dive sites in the world.  These include Rocktail Bay & Sodwana Bay, both in the iSimangaliso Wetland Park on the Elephant Coast, with coral reefs that are home to more than 1200 fish species including manta rays, leatherback and loggerhead turtles, colour-changing octopus and giant potato bass.
Protea Banks, off Shelly Beach south of Durban, is widely considered to be among the best shark diving sites in the world while the Aliwal Shoal reef, also on the South Coast, has regular sightings of dolphins, manta rays, hump-backed whales and ragged tooth sharks
11.Monkeyland Kzn To Open In 2018
MonkeylandKZN is already in process and our team is working hard on getting everything ready for visitors to come and see the rehomed primates in a large natural forest starting Easter 2018.
The sanctuary is located in the Ballito area and a mere 16km from the King Shaka Durban International Airport.
The need for a 2nd Monkeyland has become more urgent over the last couple of years.  As more people are educated about why a pet monkey is not a good idea the curators at Monkeyland Plettenberg Bay has seen an increase in calls from people wanting a better future for their pet monkey's.  Thus, the mission at MonkeylandKZN will continue to be one of education for a greater understanding of our primate cousins and the threats they are facing.  Not only the pet trade but the bush meat trade, deforestation, etc.
If you would like more information on MonkeylandKZN keep an eye on our new website by clicking HERE or contact Lara on lara@monkeylandkzn.co.za